2016 BMw X4 for Sale near Springfield, IL
The Perfect Blend of SUV and Coupe in One Versitile Vehicle
What do you get when you blend the aggressive styling of a BMW SUV, the feel of a sleek and modern coupe, and the versatility of a crossover? You get the uniquely designed and head turning 2016 BMW X4. This Sports Activity Coupe® gives you the best of both worlds. You get the speed and power you want from a BMW coupe and the space and flexibility you need from an SUV or crossover, all with the luxury you expect. Come in to BMW of Champaign today to see the 2016 BMW X4 for sale near Springfield, IL.
Your first impression of the X4 will have you questioning exactly what kind of vehicle it is. The front speaks of the aggressive BMW SUV, with the classic BMW grille and muscular build. However, as your eye follows the lines across the body, you'll notice the low slopping roofline, reminiscent of a BMW coupe. The 2016 BMW X4 is unlike any other BMW SUV and is sure to get you noticed.
The interior of the X4 is just as sleek and stylish as the exterior. The flowing dash is minimalist and polished, which is not only appealing to the eye, but helpful in allowing you easy access to the features you and your passengers want during your drive. Of course, you will also be surrounded by quality soft-touch surfaces covered in leather, and you'll easily sink in to the comfortable 8-way power adjustable seats, so you might never want to leave.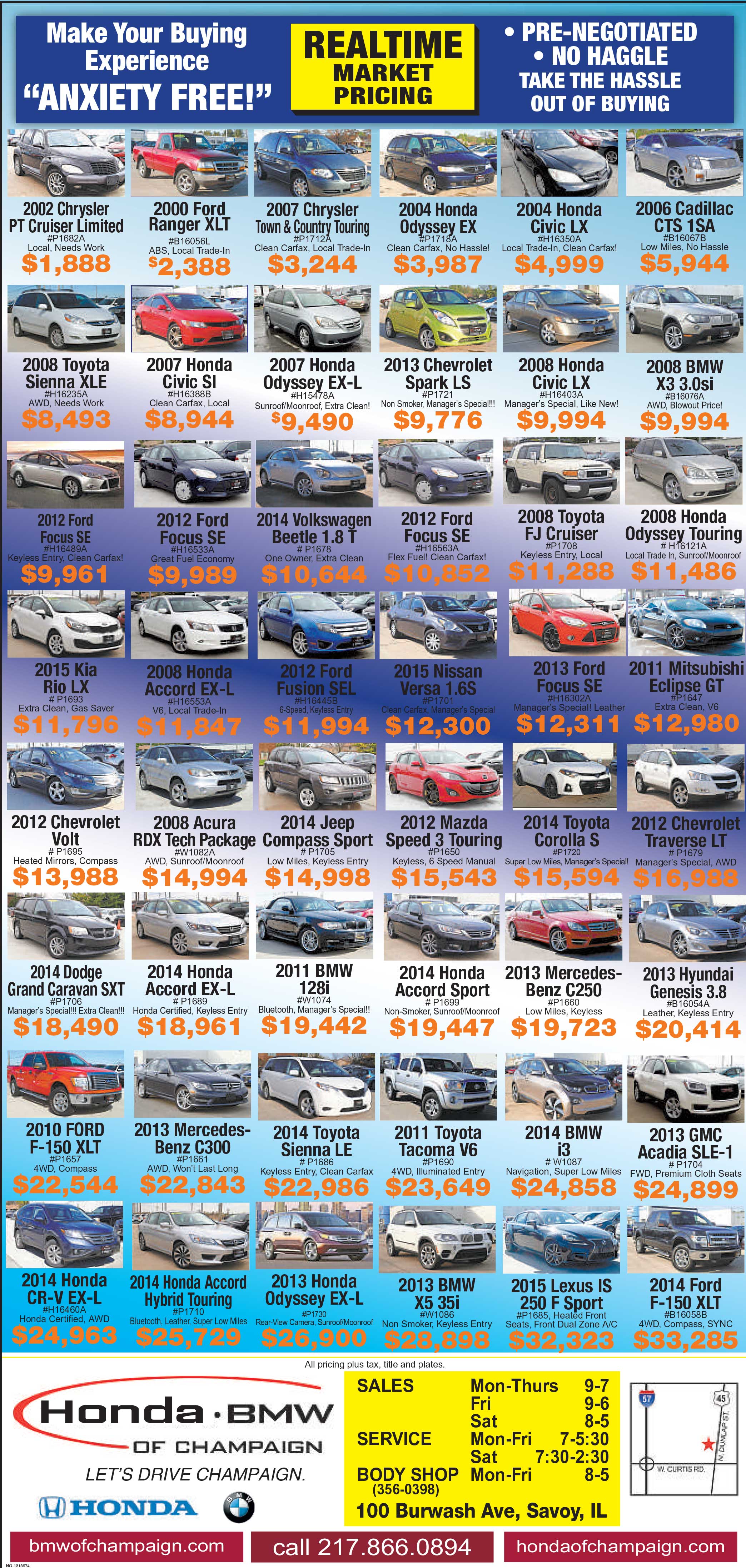 Of course, what would a BMW be without a powerful engine powering it? The 2016 X4 comes with the choice of two different engines. The first is the BMW 28i, 2.0L 4-cylinder engine. This engine will give you a fun-to-drive 240 horsepower and 260 lbs.-ft. of torque. The second option is the engine that will get you moving from 0-60 in a thrilling 5.2 seconds. This engine is the 35i, 6-cylinder engine that will give you 300 horsepower and 300 lbs.-ft. of torque. No matter which version of the BMW X4 you choose, you will get the drive you expect from a BMW.
When you are looking for a unique SUV that gives you everything you want from a BMW, then look no further than the 2016 BMW X4 for sale near Springfield, IL. For more information, come in to BMW of Champaign. Schedule a test drive today and drive home a new BMW.
1. Check for a list of BMW-compatible Bluetooth® enabled mobile phones at your authorized BMW Center or bmwusa.com/bluetooth.